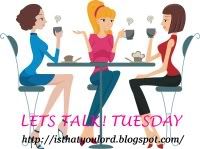 Welcome to our chat today! If you want to link up....give your info to Mr. Linky! :) And steal my button...it's legal! ;)
My random things for today....
1. I am visiting with my sister for a few days. She still hasn't been able to find a home church here in her small town, so we visited a nearby church yesterday. Not the one for her! So we'll try again Wednesday night........Wish us luck!
2. After church we headed to McDonalds so that Logan and Rylee could have a little air conditioned playtime! Here is Rylee having a drink :)
(Sorry about the quality....it was taken with my less than average cell phone camera!)
3. I was reading some status updates tonight on FB and this one by
Robert Ricciardelli
was my favorite:
"To be fed, you must feed, and to be filled, you must fill others. To really be satisfied in life, you must allow God to assimilate Himself in you and through you in satisfying others. Surely 'Give and it shall be given' is true and reciprocity is God's universal principle. God fills 'Givers' with abundance and satisfies them with His goodness as they pour out His love to meet the needs of others."
It really made me think about how fulfilled I am when I have the chance to share or minister with a group of people or even just one person! The more we are filled, the more we can give out, and the more He fills us!
4. Today we were supposed to visit the Children's Museum, but we didn't even make it out of our pajamas! That doesn't happen very often for me, but boy was it nice! We enjoyed our day at home, and our trip to the Museum is now on tomorrow's itinerary. We are looking forward to catching (toy) fish with magnetic fishing poles, traveling into outer space, lending a hand on the ranch, walking in the footsteps of a doctor, discovering underwater river adventures under, and much more! I better wear my tennis shoes! ;)
5. And I'll end today's chat with a scripture.....
"I will bless the Lord at all times; His praise shall continually be in my mouth. My soul shall make its boast in the Lord; the humble shall hear of it and be glad. Oh, magnify the Lord with me, and let us exalt His name together!" Psalm 34:1-3
Have a blessed day, my friends!! And let us exalt His name together!!
XO,
Shelly