Yep!....guilty as charged! I missed last week's chat! But we WERE on vacation...... :)

So this week, I'm gettin' my chat back on! I hope you will join me!

Feel free to grab my button for you blog: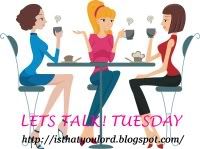 And don't forget to link up so that I can come and chat with you on your blog :)
I love that we can be random on this post! Here goes........
(and remember....you can do as many or as few as you want!)
1. I'm thinking I may need to wax between my eyebrows because my 5 year old just told me I have peach fuzz......lovely.
2. My baby (who told me I have peach fuzz) starts kindergarten in 3 weeks.....
3. Have you ever been to Destin, Florida? We drove through on the way home from Orlando and just HAD to stay the night! I think we actually ended up next to Destin in Ft Walton Beach. The beaches are amazing and the water is beautiful! And no oil!
4. In a few weeks our church is holding a Back to School Outreach and giving away shoes, school supplies, cotton candy, and free immunizations. I get to help pass out shoes! :)
5. I'm watching House Hunters International (one of my favs!!) on HGTV and a couple has 2 million to spend on a house in Fiji.......TWO MILLION!! What kind of job do you get to be able to afford to buy a 2 million dollar house? Or to pay $30,000 a month in rent? (Selling New York) Just sayin....
6. God never ceases to amaze me. With all my imperfections, He loves me still. :)
7. I took a break from facebook for the month of July.....and survived! :)
8. Thinking of canceling our Directv service and just getting Netflix through the Internet on our TV. $100.00 a month vs. $9.99.....hmmm.....TV really is such a waste of time anyway.....2 million dollar homes in Fiji.....LOL
9. I want to have a girls night soon and watch hours and hours of chick flicks with no interruptions and eat lots of chocolate and popcorn. My list would include: The Jane Austen Book Club, Pride & Prejudice, Sweet Home Alabama, Ever After, The Holiday, ......just to name a few ;) I may need a weekend....
10. My middle baby boy :) turned 14 last Tuesday while we were on vacation...I just LOVE him!! And he started football practice for highschool this week! Oh my...
(Relax, Granny....the tattoo is NOT real!)
Happy Tuesday, my friends! And happy chatting! :)
XO
Shelly