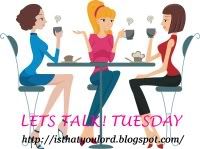 Welcome to Let's Talk! Tuesday......a time for us to ramble on about random things going on in our life in hopes to get to know one another a little more personally :)
Don't forget about Mr. Linky!..You can join in by signing in below with your name and website and grabbing my button from the right side of my blog for your post! :) This will link your post with mine!

With that said,....here are my random things for the day....I thought I'd do something a little different and add some pictures today....I may regret it later and hit the delete button, so look quickly!....... :)
1. Last week I went on my first guided fishing trip! It was so much fun! I caught two redfish...and let me tell ya....they are something to catch! I thought my arm was going to fall off.....but I persevered and here's one of my prizes! :) The picture makes it look small, ....really......there must've been something wrong with the camera.....or maybe they switched my fish......it was a monster....I thought I had a shark on the line.....lol.
(Sorry it's a little fuzzy.....taken with a phone camera)
2. My 5 year old is the cutest sheep ridin' cowboy there is! :)
(He actually won a silver buckle for this ride!)
3. I love to sew, but never have enough time.....
4. Hair this big should be illegal! What in the world were we thinking? (Me on the right....a very (very) long time ago at my senior prom)
5. My husband cloned himself.......seriously, every day our 13 yr old son becomes more like his dad.
6. One of my favorite things about my daughter.....her laughter bubbles up from the inside.....pure joy. (I wish this picture showed her adorable lime green cowboy boots she had on with this outfit!)
7. Last year I was blonde.....platinum blonde! Can you believe it? It's officially summer now, and I'm thinking about adding some highlights :) Doesn't everyone change their hair with the seasons? (And who did I think I was ...standing like that! haha!....At least I can laugh at myself...)
Ok....I've embarrassed myself enough for one day. It's your turn! :)
Happy Tuesday!!
XO