Goodmorning! And happy Tuesday! Grab a cup of coffee (or something!) and let's chat!
If you want to participate today, I've gone high tech (not really) and added a Mr. Linky! I hope it works!
Also, remember to grab my button for your post! :)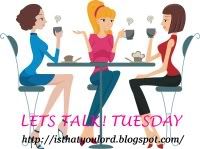 Some random things from me this week....
1. I'm writing this @ midnight, so I'll actually be ON TIME this week instead of posting in the middle of the day! Yay me! :)
2. Brooke's party was a huge success! Thanks to all of our family and friends! I am almost recuperated. Almost.
3. I've always had problems with my eye shadow creasing by the middle of the day, but I recently found something that helped!
It's one of my new favorite things!
4. My 5 year old told me that he has decided he doesn't want to be a kindergartner. He wants to be a fisherman.
5. My sister (and 18 month old niece) are here visiting at the moment. She was my personal photographer for the graduation ceremony and the party. She takes awesome pictures!
6. I am thinking about taking the 24 day Advocare challenge - 12 inches or 12 lbs in 24 days. A friend of mine sells it, but I don't know much about it. Has anyone ever used any Advocare products?
7. My "enter key" button on my laptop came off and I can't get it back on. Looks really nice.
8. I want to redecorate my master bedroom and bathroom. I'm thinking about chocolate brown and light blue, or black and white. Two totally different color schemes, but I've seen them both look so cute! I guess whatever bedding I find that I LOVE, will help me decide! :)
9. I love to create things. I love to paint, glue, glitter, sew, etc! But never enough time (or space!).
10. I can get lost in a book....for days.
Thanks for stopping by! I hope to read some of your random things for today!
Have a great week! I'll be back in a couple of days to post my thoughts on Chapter 7 of our book study.