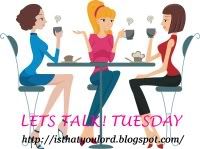 Welcome to Let's Talk! Tuesday......a time for us to ramble on about random things going on in our life in hopes to get to know one another a little more personally :) Come on girls...you KNOW we can TALK about some randomness!!! (ADD??...just sayin...)
Don't forget about Mr. Linky!..You can join in by signing in below with your name and website and grabbing my button from the right side of my blog for your post! :) This will link your post with mine!
Some random things from me this week......
1. I drove 4 (yes 4) hours to a graduation party on Sunday, stayed 3 hours and then drove home! The things we do for the people we love! :) I wouldn't have missed it for anything! I grabbed a grande toffee nut white mocha with a triple shot of espresso from Starbucks to help me drive home! Yep. Felt like my eyelids were stapled to my forehead!
2. I made the trip from #1 in a day because my husband and I had to turn right around and leave Monday morning for a couples getaway/fishing trip! That is where I am now....yay! We have to get up bright and early to meet our guide and start catching some red fish! But I was determined to not miss our chat! (Awwwww......I know.)
3. My husband looked mighty fine tonight in his cowboy hat :) Mmmm Hmmm....I am a lucky woman :)
4. Although this book study had been UH-MAAAAY-ZING!!!.....I am excited about finishing up because I have a couple of new articles I'm working on to share with you! Remember....if we will just position ourselves to hear.....God is speaking!
5. I've really been enjoying the study on marriage and becoming a better wife hosted by
Stacy
over at
Graceful Sisters
....if you haven't visited, go check her out....good stuff!
6. I was reading a bedtime story with my 5 year old the other night and the book he choose was one about dolphins. Did you know that when one of the dolphins is hurt or injured, some of the other dolphins come up beside and under it to carry it to the surface for air every few minutes so that it can survive?! They do this until it gets better and is able to make it on its own! (You know there is a blog post coming about this soon!!!)
7. I love that we have the opportunity to share with one another via our blogs.....what did we ever do before the Internet? :) ... (I know.....we spent more time cleaning house.....)
8. A friend recently sent me a message saying that she just read my post on Chapter 5 of our book study - Control and how it was a word from God for her at just the right time. It is so encouraging to hear that God is using these words to not only encourage me but others as well! I went back and re-read the post and it just so happened......I needed it that day, too. :)
9. My eyes are getting heavy (no Starbucks tonight!) so I'll stop with number 9 today. Have to get rested up for our fishing trip in just a few short hours......
Have a great Tuesday everyone! I look forward to reading your posts when we get back in the evening!