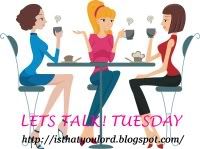 Welcome to Let's Talk! Tuesday :) A time for us to chat and get to know each other a little better. Please feel free to join in by adding your information below in the Mr. Linky box :) Also, grab my button for your blog if you want!
Some random things......
1. Our 13 year old son left Monday for a week long youth conference. I am so excited and believing that God is going to reveal Himself to him in a way that he has never known Him before. I am praying and believing for great things for our whole youth ministry, including our fearless leaders! ;)
Speaking of my 13 year old....here is a nerd pic from last week's "Nerd Day" in his youth group that my sister took and I haven't shared yet (I couldn't resist)
And in all fairness...here's a "real" pic :)
2. I am leaving Wednesday to join in on the youth conference for that night's service! I have a friend on staff who I will be staying with (no, I'm not wrecking my 13 year olds week away....how tragic to have your mom follow you around!) I am excited to get away - a road trip and some alone time with God. I hope to spend a large part of Thursday listening and writing.
3. My posts lately are a little sporadic. I am still journaling, studying, meditating, ...I even have a couple of posts saved as drafts....just not ready to post yet. Plus with summer here and my kids home from school, computer time is limited (as it should be). Thank you for your patience :)
4. Remember our daughter has been working this summer at one of our local vet clinics? Well....she brought a little bit of work home last week.
"Mom....I have something to tell (show) you...."
"But mom....he was a stray and no one wanted him. He was going to be put to sleep if I didn't adopt him."
I am thankful it is only a summer job. ;)
5. Monday evening I got to meet 3 of my highschool friends for an early dinner. We try to get together at least once a year, but I think we missed last year......it was great to see them, as usual! And I can't believe it's been over 19 years since we graduated from highschool!! What??! :)
6. Have I mentioned that we leave for Disney World on Sunday after church??! Whooop whooop! :)
7. Have I mentioned that we are driving to Disney? in an RV? with another family...a total of 9 people....all the way from Texas to the East Coast? Should definitely make for good blog material! ;) (I just hope I can get some pics or video to go along with it! lol)
8. In order to give my kids equal blog time, I though I'd include a pic of my 5 year old in all his glory :)
10. I made it to 10 again! Yay! Can't wait to read what YOU have to say today!
Have a Happy Tuesday, everyone! :)
XO
Shelly