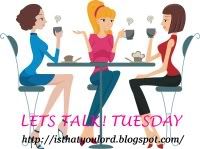 It's been since last August that I submitted a Let's Talk Tuesday! post. I put the weekly random posts on hold for an indefinite period of time. Not sure that I'm restarting them, just felt like offering up some randomness this week!! :)
Feel free to link up and join me if you'd like....I will leave Mister Linky open all week and would love to come visit your blog, :) OH, and you can take my button from the right side of my page if you'd like! :)
My randomness for this week....drumroll please....
1. First things first. Yesterday I was overwhelmed with the majesty of God. Awesome Creator. Marvelous and Amazing. And all I had to do was look at the sky. The beautiful, wonderful, brilliant blue sky....all creation does praise Him....and my soul does sing of His majesty.
2. In my
last post
I mentioned my hopes for attending the
She Speaks Conference
in July. I just wanted to mention it again. ;) I am anxiously awaiting the updated info on the conference and saving my pennies!
3. Today, I am enrolled in 15 college hours. Tomorrow, that will decrease by one class. Yep. There is therefore no condemnation..... :)
4. I really love my home church. It has taken a while to feel connected (mostly because of my own hesitation) but it is now home. And it only took 3 short years.
5. I had to mend my little guy's superhero costumes (again). He was concerned that someone might see through the holes and discover his secret identity.
6. Blogging has been an amazing outlet for me. I just wish I could do it more. I have "met" some incredible people from all over the world and learned a lot from other bloggers. We are a community. :)
7. Last year I started a blog on being frugal. I published a total of 10 posts. Some things just don't work out. And I'm ok with that. Really, I am. (But I think I will delete it so that it doesn't stare me in the face every time I log in.....) Not that I'm not being frugal, because I am always looking for ways to save money and I rarely buy anything that isn't on sale or off the clearance racks....I just got a little overwhelmed with all the coupons....cutting, clipping, organizing, expiration dates, doubling, tripling, combining... (shudder...)
8. I have three uh-may-zing children.
9. My husband and I will celebrate 19 years of marriage this month. I'm so excited and hoping for a weekend away! We need it. Sometimes, as husbands and wives, we neglect alone time and togetherness because we are too busy taking care of everyone and everything else. It is imperative that we keep our relationship strong with our spouse (but that's a whole other post....).
10. I've learned that some days are just harder than others. They just are. It's how we deal with them that counts.
I've enjoyed our little chat of super randomness! I can't wait to see what you have going on!
Please join with me in praying for my bffs mother, Marsha, who is currently in the hospital with internal bleeding possibly from a tear in her stomach. God is our great Physician and Healer!