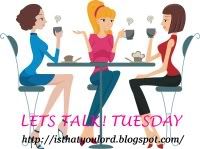 Hi everyone! And welcome to our first Let's Talk! Tuesday! If you're not sure what I'm talking about....read about it here!


And feel free to take my button to your blog! No, I wasn't smart enough to make it....my sister did it for me! Thanks, sis! :)


If you want to join in on the conversation today, leave a comment or email me and I'll add a link to your page below....


Click on the following blogs to read more!
1. Faith, Family, Fitness and Fun!
2. http://sweetsweetrelease.blogspot.com/
3. Run, Work and Save


My random things for today....


1. My daughter got her first job today! She is graduating from highschool and now has a summer job at a Veterinary Clinic! Her future plans include becoming an Equine Vet. I am so proud of her!


2. Lately I am one big ball of emotions. Seriously. One child graduating, one starting highschool, one starting kindergarten. I told my friend today that I need therapy. I may. But that's another post.


3. New York City needs me to visit again soon.


4. My clothes are shrinking. (see #5)


5. I had a salad for dinner. (OK....ok...so it was wrapped in a flour tortilla and smothered in ranch dressing. Big deal.)


6. I still need a pedicure.


7. Seriously dreading swimsuit shopping. (see #4)


8. Excited about our trip to DisneyWorld in July!!


9. I just received my first free book to do my first book review! Now I have to find the time to do it! LOL


10. I L*O*V*E Bananagrams!


And now I'll drink my coffee and let you do the talking! :)